Marissa Murphy, Founder and Director
Marissa Murphy, a native of Buffalo, NY, is the Founder and Director of Washington Suzuki Strings, and serves as Principal Second Violin of the Maryland Symphony Orchestra and section violin in the American Pops Orchestra. Ms. Murphy serves as Chair of the Board of Directors of the Suzuki Association of the Greater Washington Area, and has completed and registered all levels 1-10 of Suzuki Violin teacher training with Ronda Cole and Mary cay Neal. Ms. Murphy is pursuing continuing education in Dalcroze Eurthymics with Dr Jeremy Dittus, and has received Music Mind Games training with Michiko Yurko and Elizabeth Cunha. Ms. Murphy is a graduate of Buffalo Suzuki Strings, and received a B.M. in violin performance from the Cleveland Institute of Music and a Double M.M. in violin performance and pedagogy from the Peabody Conservatory of Johns Hopkins University. Her major teachers include Martin Beaver, Linda Cerone, Ronda Cole, Mary Cay Neal, and David Russell.
Ms Murphy's Washington Suzuki Strings Advanced Ensemble has performed at the White House on four occasions, for Vice President Biden at his residence, for the Ambassadors of Italy, Zambia and Norway at their respective embassies, soloed with the Maryland Symphony Orchestra, the Walter Reed National Medical Naval Center, the Cherry Blossom Festival, and the Cleveland Institute of Music. Her students have been prizewinners in the Marlin-Engel Competition, the Maryland Symphony Orchestra Concerto Competition, and have achieved "A Levels" in their American String Teachers Association Exams. Ms. Murphy has performed on NPR's "All Things Considered" as part of a tribute to Mozart, and has also performed at the National Repertory Orchestra, Encore, Spoleto, and Bowdoin festivals. She has soloed on multiple occasions with the Maryland Symphony Orchestra and the Clarence Symphony. Ms. Murphy has performed with the Buffalo Philharmonic Orchestra, New World Symphony, the National Philharmonic Orchestra, and the Annapolis, Clarence, and Alexandria Symphonies, and is the former Second Violinist of the New Music Associates Quartet in residence at Cleveland State University. She has given recitals for President Jimmy Carter to honor his Nobel Prize, and at the Cleveland Museum of Art and St. Paul's Cathedral Recital Series, and is on the faculty of the Greater Washington Suzuki Institute and the Buffalo Suzuki Strings Summer Workshop. Ms. Murphy is the former Associate Chair Suzuki Strings and Violin Faculty at the Levine School of Music and has been published in the Suzuki Association of the Americas National Journal and the American String Teachers Association Journal.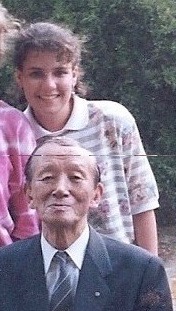 Picture- Marissa Murphy with Dr Suzuki, 1991.